I'll need to do some cleanup but overall I like it.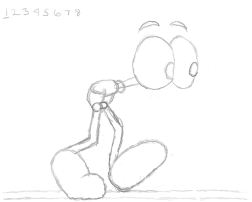 Keith
3 Responses to "Number 6… this about does it, what do you think?"
Keeyai Says:
May 21st, 2008 at 10:09 am

I like it! It has really come a long way. It isn't obvious that it is a brain though, but you can probably get that effect in the cleanup stage. I like the subtle changes in how the eyes line up from our perspective - nice job.

GBGames Says:
May 22nd, 2008 at 7:09 am

I like how you got the secondary action to be a bit more subtle. #5 bounced a lot more in comparison, and it made me feel anxious. Maybe you could still use something similar for a running animation?

Good job!